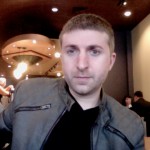 Chris Andersen, "Sixty" has been helping men achieve success with women for the past 10 years. Chris teaches a natural style of meeting and connecting with women that focuses mainly on sexual chemistry and the natural tension between men and women.
Sixty was recently voted one of the top 10 pickup artists in the world and his seduction system has become one of the most popular methods in the world for connecting with women fast.

Nice Guys Finish First
A lot of pickup methods look to exploit the worst qualities in women. Their sometimes attraction towards jerks and guys who pretend not to like them. In contrast, the 60 method looks to bring out the best in women. Their attraction towards confident, sexual, but humble men who appreciate them but don't supplicate.
There is nothing wrong with being nice to women. There is nothing wrong with being her friend. Or being a gentleman. But you also have to be confident and sexual. I will teach you exactly how to do this without having to become someone your not.

Philosophy
My philosophy is you can't get every girl to like you. However, with the right skills and a healthy mindset you can get most of the girls who do like you. And with practice you will also have a shot with the women who have some interest in you where it could go either way (the grey area).
My job is to teach you the right skills and mindsets to become good with women. That doesn't just mean sleeping with women. Any loser can do that. Being good with women includes the ability to seduce women, maintain a healthy relationship and become a well-rounded man. A good person, role-model, friend, husband, father, etc.
The company name "60 Years of Challenge" is a reminder that the process of getting good with women is not something that just magically happens in a week, month or even a year. You should always challenge yourself to learn more and constantly strive to improve. Enjoy the journey!
Marketing
If you're looking for a "hard sell" you won't find it here. If you're here it's most likely because someone has already recommended my products to you. I'll let the hundreds of reviews speak for themselves. I have nothing to prove. You can view our —> customer success stories here

Rules 
Becoming a member of the 60 Years of Challenge family is a privilege. There are hundreds of dating companies out there, but very few with the quality of seduction and relationship advice you will find here. So whether you use my forum, products or coaching, remember to keep the conversation civil. I expect the very best from myself and I will tolerate no less from my students. Not adhering to these rules will get you a lifetime ban from all 60 Years of Challenge services.
Satisfaction Policy
Nothing is more important than your 100% satisfaction with my products. That is why I give a 60 day "no questions asked" money back guarantee. This is the absolute best return policy in the business and speaks to the confidence I have that my products are "best in class" and will help you improve your life with women. With the option to test out my system with no risk – you have no excuse for not taking charge of your life. Get started today.
Personal Support
I handle all of my customer service personally so rest assured if you have any questions or issues I'll be here to help you. Have a question? Shoot me an email at chris@completegamesystem.com or use the contact form and I'll get back to you asap.
Perspective
If you need some perspective always remember that we are not robots who constantly go out to seduce women. In fact, I have been in a committed relationship for many years now. I also became a dad last year and that is my main source of happiness. Everybody has different goals and yours may change as you get older. To each their own.
Don't compare yourself to other guys or think you have to sleep with lots of women to be "cool". We are all on our own journey. For me, I enjoy coaching guys how to become better with women and maintain healthy relationships. And I will continue to do that as long as I feel I have something to offer.
Results Disclaimer

I can't promise that you will become the worlds greatest seducer but I can guarantee that I will make you much better with women than you are right now. Whether that means modest gains in meeting, dating or connecting with women – or just a better understanding of relationship dynamics – my products have already helped hundreds of men improve their lives. I have no secret tricks, but make no mistake…I am the best in the world at explaining seduction in a simple way that guys can understand. This helps you get good with women, fast.
That being said, your success will depend on many factors including your effort and current life situation. I'll give you my best, but you will have to do your part as well to become a well-rounded attractive person. There are no shortcuts. Welcome to our club…

——> Click here now to get started